CR Kualau Rompin 17 Sept 2010
8 anglers went up to Rompin for this trip and they are
1…PP777
2…Ethan
3…Storm
4…Jeskel
5…Burp
6…Excalibur
7…Xenokel
8…MazdaDan
We set off in 2 cars at about 0030h 17 Sept 2010
With mention of Storm,Ethan and MazdaDan being their virgin trip to Rompin and due to this reason we have decided to set off a couple of hours earlier as opposed to the usual practice of setting off at 0300h by Team AA members
Reached Mersing for a supper break at about 0330h
Recommendation for supper..Nasi Lemak and Rojak Ayam
Sambal chilli was nice and the chicken was fried before serving
Along the way we stopped by a 7-11 for buying some groceries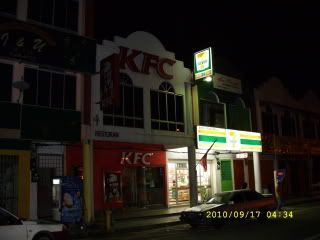 Reached Rompin at about 0455h
Pic of boats alongside jetty
Another pic of boat alongside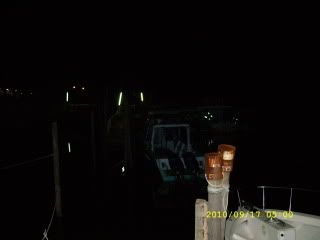 About 3 hours before our sail off time so we took the chance to nap a while
But soon its thundered and heavy rain pour started at about 0515h
At about 0700h we set off for the market for some breakfast and buying of sotong as bait
0730h,still drizzling but it did not dampen our moods to sail off and we loaded all out stuff onboard and sailed off
Our Arsenal for the day
Here is our arsenal list :
PP777
Light setup Berkely Rod with team seahawk dynasty reel
Heavy setup Pioneer Tuna Stik with Avet
Excalibur
Light setup Eupro Twincraft with Ryobi Zauber
Heavy setup Calstar and Daiwa Saltist
Xenokel
Light Setup Eupro Salty fighter with Shimano Twinpower C3000
Heavy Setup Calstar and Accurate
Jeskel
Light setup surebite with caldia kix 1500
Heavy setup Eupro Tornado with Daiwa Freams J
Burp
Light setp Eupro Salty fighter with Shimano Stradic CI4
Heavy setup Expert Powerplay with Shimano Stradic
MazdaDan
Light setup bassterra with Twin power 5000 PG
Heavy Setup Xozoga Takadium with Penn Conquer
Ethan
Light setup Eupro Salty fighter with Surecatch Madeira
Storm
Light Setup Eupro Salty fighter with Daiwa Certate 2010
Heavy Setup Shimano Jigwrex with Surecatch Stallion
Off we go sailing
Scenery along the way :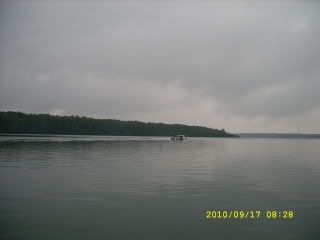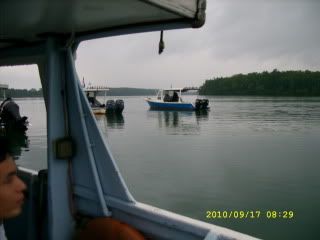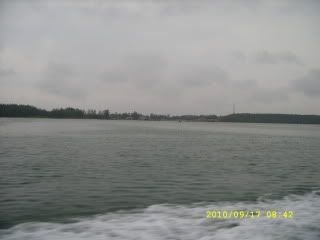 Hmmm wat are they discussing about?
While on the way out rain did not stop in fact it got heavier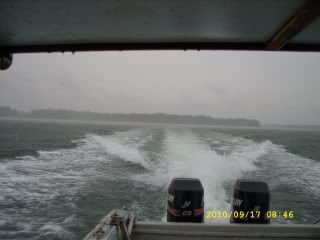 And most of us was drenched from either the rain or the spalsh of the waves
We went to 2 spots did not get much bait fish (about 4 pcs only) so we went off to the 3rd spot,we did not go for sailfish spots even though it was the sailfish season as we did not wanna end up disappointed if we purposely went up for sail and did not get any,so bottom fishing was our agenda of the day
Boatman helped up rigged up one baitfish on Xenokels Calstar n Accurate setup at the back of the boat while we preped for either bottom or light jigging
Shortly after boatman casted out,there was a take and he shouted "tengiri" we were quite excited by it but suddebly he shouted "SAIL!" and we yelled at Xenokel (who went to the front of the boatfor jigging) to ask him to fight the fish (cos was his setup) and here we started fighting sail at a non sailfish spot
Xenokel taking over the fight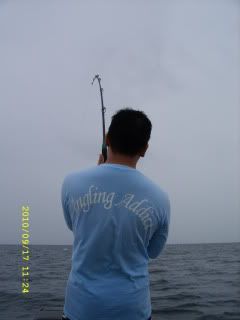 TEAM ANGLING ADDICT IN ACTION
Soon Burp too over the fight as the sail was pulling line out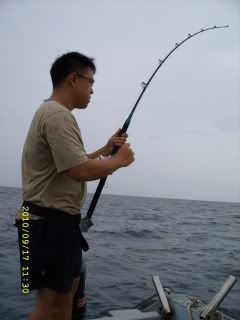 Burp in action
After a few mins I took over the rod and starting pumping to try to get the sail in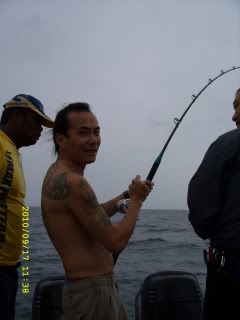 After some time MazdaDan took over the rod
hmm...maybe shimano can consider sponsoring us?
And sail was landed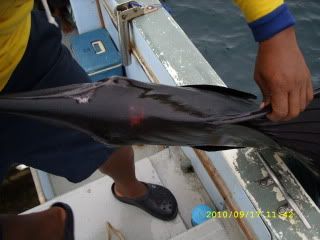 Look small from this angle right?
But see again
After landing this sail we rigged up and casted out again with a balloon
And no long after we saw a sail swam near out boat and needless to say SAIL ON
This time round Ethan took the first fight
Xenokel wiping sweat/rain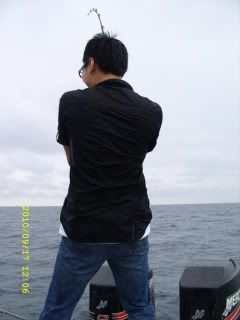 Ethan our most well dressed sail fisherman of the year…talk about being respectful to the fish hahaha
Jeskel took over the fight next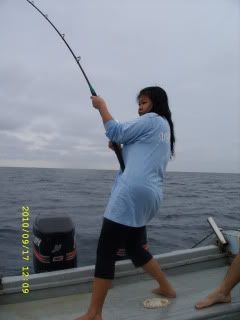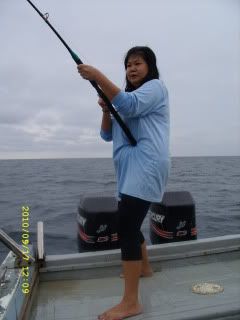 After Jeskel,Excalibur took over the fight
And the sail was landed
After the sail we went to another spot and had lunch on the way and soon after lunch,the sun came up and we hit a school of angoli
(sorry no pic during this period of time cos everybody was busy landing angoli)
After the angoli frenzy was over we started jigging for sotong and I was too tired from the driving and such so I went to took a nap
Halfway tru my nap,I heard the alarm of the accurate went off and startled me from my nap,I jumped up to help Xenoto takeover the fight ig needed but than soon he said "Sangkot" and I went back to nap.left him and the boatman to untangle the line as the take of the fish went round the anochor's rope
5min later I woke up and went to the back of the boat where our master chef PP777 was preparing his famed ROMPIN SOTONG SASHIMI
After the sashimi we headed back to shore,took us almost an hour to reach shore and along the way some scenery pics
Our catches of the day
We showered up,had dinner and drove back
Overall it was a fun and fulfilling trip,especially for those who have not been to Rompin
Until the next trip,wishing everybody tight lines and more fishes
Storm